The Charles County Literacy Council (CCLC), a nonprofit organization, provides one on one adult literacy tutoring.  We ensure that all Charles County adults over 18 have access to quality education to fully realize their potential as individuals, parents, and citizens.  All tutoring and books are provided at no charge to our adult learners.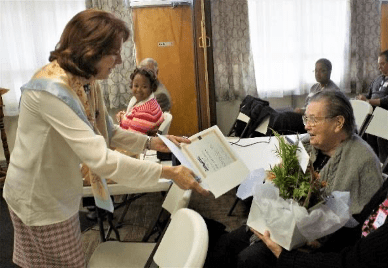 Dorothy Piegols, a CCLC co-founder,
receiving a special appreciation award from President Carrie Dotson in 2016.
Our History
In 1964, the Charles County Literacy Council (CCLC) was formed to help tutor Charles County adults with low literacy. In 1987, CCLC incorporated and received non-profit 501(c) 3 status. It remained a small, all volunteer organization until 1988 when it hired a part-time Program Coordinator, an action that helped to significantly increase CCLC tutoring efforts. In 2016, the CCLC hired a part-time Outreach Coordinator to help in our efforts to reach more Charles County residents, especially in the remote rural areas.  Over the years we have tutored hundreds of students, and each year we record thousands of volunteer hours.
Mission Statement
Providing free community based one on one adult literacy tutoring to all residents of Charles County.
Our Bylaws
Our Supporters
Charles County Literacy Council is a Partner Agency of the United Way of Charles County.  The Lions Club of Waldorf and the Rotary Club of La Plata are proud supporters of CCLC.  CCLC also receives funding from the Charles County Government, the Maryland Charity Campaign and through private donations.